Beeswax Candles for Africa !
We hand roll pure beeswax candles & we hand mould pure beeswax candles in our shop in Centurion. We can ship or freight anywhere in South Africa so please enquire about shipping costs if needed.
Pure Bees wax candles

Pure beeswax candles burn longer and emit no smoke while they burn.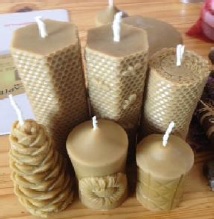 We roll the beeswax candles in Centurion so they are 100% handmade natural beeswax candles available in store! They have the natural beeswax pattern from the bee hive which gives them an amazing look and feel.
We have wholesale prices for 60pcs or more and retail price is R35 per candle. The beeswax candles are 10 - 20cm in height and 2-3cm in diameter. We can make other sizes and lengths on enquiry.
Standard size:
10 -20cm in height
2cm in width or diameter
burns for over 3hrs (rolled candles) and over 10 hours for hand poured candles
no smoke emitted
wonderful hexagonal shape from the bee hive
can be packaged with swig of flowers and raffia
Available at the Bee WARE Retail store in Centurion or via mail order / courier.
Bee wax candles
Beeswax Candle prices excl. postage

| | | | |
| --- | --- | --- | --- |
| Size: 10-12cm | Size: 10-12cm | Size: 19-20cm | Size: 10-12cm |
| Sunflower with bee | Cris Cross | Tall with bees | Christmas Cone |
| Hand poured candle | Hand poured candles | hand poured candle | hand poured candle |
| Price: R60 | Price: R60 | Price: R130 | Price: R80 |
| Burns atleast 10 hours | Burns atleast 10 hours | Burns atleast 15 hours | Burns atleast 10 hours |
| | | | |
Client feedback
Hi there,

"An amazing experience using these pure beeswax candles for my meditation everyday. they burn longer and smell good while doing it! ~ Deb
Product Profile - Handmade Pure Beeswax candles
Benefits

Pure Beeswax candles

Price
1 - Clean - no smoke

Standard Candle

R35 each

Postage R70

2 - Burns for longer than other candles

Good candle wick

3 - Special hexagonal shape pattern

Rolled by hand
Solid Pure Beeswax Candles for Africa !
These pure beeswax candles are solid and stand 50mm x 300mm in size.
They range in price from R60 - R130 each per candle. They will burn for over 10 hrs at least with no smoke and no odour. Perfect for meditation, churches and synagogues.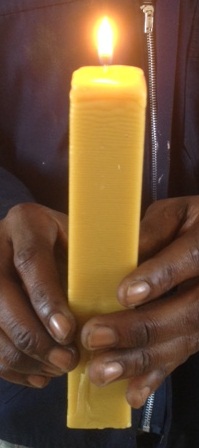 ---
Other products that are available...
[Bee Gloves] [Bee suits] [Hive Tools] [Hives] [Smokers] [Blue book] [Extractors]


More about Bee brushes
For R70, there are different types of bee brushes to choose from. We stock only one type with a wooden handle and soft bristles.
Our equipment is designed by a beekeeper and is of high quality. Feel free to request products not on our list here to be made available...
We Also Recommend this... Hive tool
Hive Tools - essential for accessing hive chambers & more

This bee hive tool is like the pen to Shakespeare. It is the primary utility at the apiary site when conducting internal inspections and working the hive.
One uses it to move frames around, loosen propolised frames and hive components, lift frames and open brood and super chambers to give you some examples.
Add a Hive tool to your cart [R70 excl P+P].