Hello Ukraine
Bee WARE visited Kyiv, Ukraine 2013...

The well-renowned Brotherhood of Beekeepers in Ukraine won the hosting of the 2013 Apimondia Conference!
We visited for 10 days with loads to listen to and see and even more to experience in Ukraine as a beautiful country!
Directions - GPS: S 25.87756 E 028.17355
Expo feedback
"We listened to over 20 different speakers across 8 different categories with presenters from across the globe all focused on new technogoly and findings with regards to beekeeping"
Apimondia Profile - "The Beekeeping Conference"
Description

Photos of Kyiv, Ukraine

Photos

1 -Award winning Honey Stand @ Sophia Monastery

2 - Long queue to register

3 - Kyiv Honey Stand near WW2 Museum

Honey comb weighed by the gram and charged by the gram

One can learn a vast amount of beekeeping knowledge and new skill when visiting another country so rich in beekeeping culture.
We visited a monastery where bees are still kept today in the apple orchard which alongside a white Acacia forest.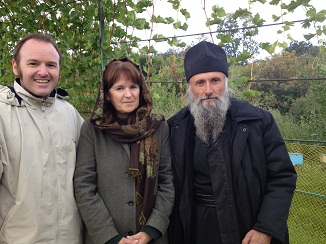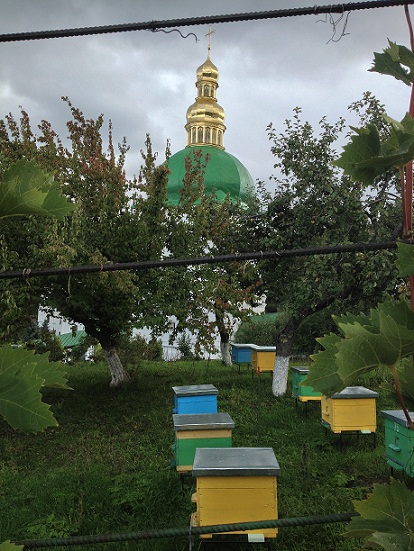 Got some Video footage!
So you couldn't make it to Ukraine.
We have got some video footage of what we saw while travelling around the city and the country.
"It's probably the best book ever written on beekeeping and its for South Africa and by a South African!" Hans Blokker of SABIO management.
See the different shaped bee hive design of the hexagon used in Ukraine along with Langstroth design bee hives.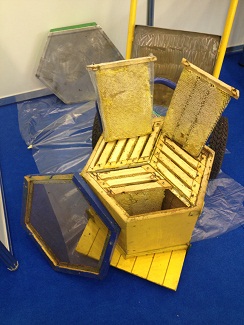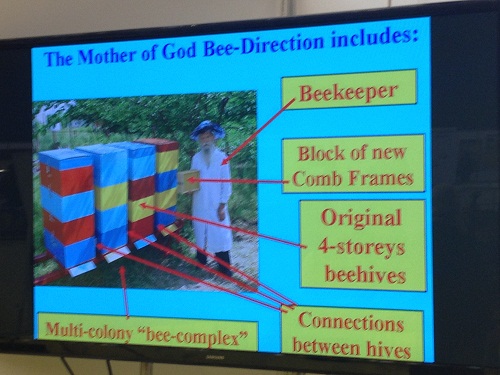 Father from Mother of God Monastery shows his multi-colony bee complex of four bee colonies all interlinked with bee corridors. Queen bees can travel between colony 'stacks' and they "help" each other when neighbouring colonies are weak or have more space for laying.
We Also Recommend this... Beekeeping DVD
Bee Course DVD Practical Beginner Beekeeping training on Video!
The Practical Bee Course DVD includes tips, know how and step-by-step instructions on how to start bee keeping right now! NOW Over 150 Min of LIVE Footage!