Honeybee Swarm Attractant
Bee WARE distributes Swarm Lure attractant

Honeybee Swarm Attractant Wipe helps to attract passing swarms, and to lure swarms temporarily hanging in trees and other awkward places into a skep or box containing the swarm attractant. It will even reduce the risks of swarms leaving the apiary if a bait hive contains the attractant.
It comes in a small sachet  and resembles a cleansing wipe. It is impregnated with essential oils extracted from plants.
To activate, the sachet can be pierced or torn open and hung in an empty hive, skep or other suitable container, or it can be wiped over the surface of the container.
Rigorous university research has shown that the lure attracts 60-90% of swarms —  and learn about the different ways to use the lure to attract primary swarms (headed by old queen) and secondary swarms (headed by one or more virgin queens).
Epic Bee Webinar Covers
Swarm Lure & Catch boxes
-------------------------------->>>>>>>>>>>>>>>>>>
Expo feedback
"We put 4 trap boxes on the roof and tried various home-made swarm attractant recipes in 3 of them & Swarm Attractant Wipe in the 4th one... The bees arrived and moved into the Swarm Attractant Wipe trap box! "
Directions - GPS: S 25.87756 E 028.17355
Swarm Attractant Profile - "The Bee Attractant Lure wipe "
Description

Photos of Swarm Attractant wipe

1 -Rigorous university research has shown that the lure attracts 60-90% of swarms

2 - The researchers also discovered a fascinating difference in the behaviour of primary swarms (headed by an old queen) and secondary swarms (headed by one or more virgin queens). Secondary swarms were attracted to empty hives containing the lure and immediately started setting up a permanent nest.

In contrast, the primary swarms were attracted to the lures pinned to the branches of trees and only then would they start looking for a permanent nest site.

3 - One sachet wipe is R50 and a box contains 10 Swarm Attractant wipes for R500.
One can learn a vast amount of knowledge and new skill when visiting another country so rich in beekeeping culture.
We visited a monastery where bees are still kept today in the apple orchard which alongside a white Acacia forest.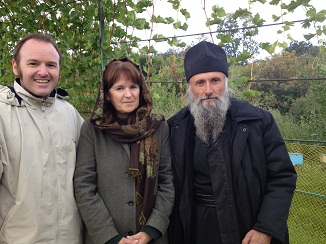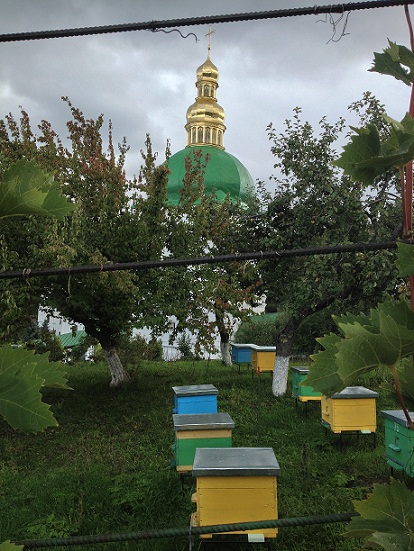 Got some Video footage!
So you couldn't make it to Ukraine.
We have got some video footage of what we saw while travelling around the city and the country.
"It's probably the best book ever written on beekeeping and its for South Africa and by a South African!" Hans Blokker of SABIO management.
See the different shaped bee hive design of the hexagon used in Ukraine along with Langstroth design bee hives.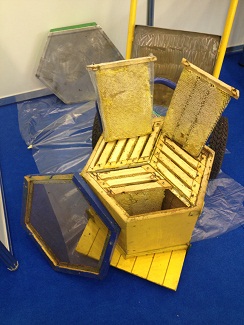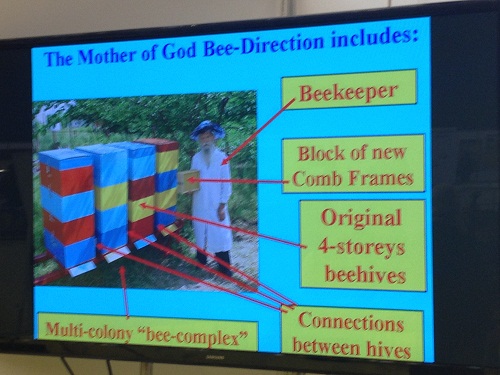 Father from Mother of God Monastery shows his multi-colony bee complex of four bee colonies all interlinked with bee corridors. Queen bees can travel between colony 'stacks' and they "help" each other when neighbouring colonies are weak or have more space for laying.
We Also Recommend this... Beekeeping DVD
Bee Course DVD Practical Beginner Beekeeping training on Video!
The Practical Bee Course DVD includes tips, know how and step-by-step instructions on how to start bee keeping right now! NOW Over 150 Min of LIVE Footage!